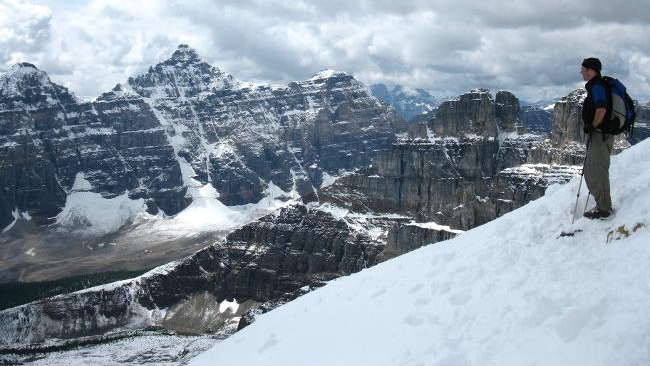 Mount Temple, August 2009

Dr. Mountain's Autobiography

It took many years of searching to find this profession which incorporates many of the philosophies that I strongly believe in. Growing up and working on organic farms taught me the value of hard work as well as an understanding of agriculture and what it takes to produce quality food. My parents and both of my grandparents grew large produce and herb gardens and would carefully utilize herbal plants from the surrounding fields and forests. I was also taught the benefits of regular exercise, how to carefully select a healthy diet and only use medications as a last resort when dealing with an illness.
Growing up in Ontario, I enjoyed canoeing or fishing with my dad or a family day at one of Ontario's beautiful sandy beaches. Living in the country, with constant farm work, did not allow for a commitment to scheduled team sports so my favourite past-times were outdoor adventures including mountain biking, windsurfing and snowboarding. Additionally, my family also loved to travel and we took some amazing, life changing roadtrips through the United States and Mexico, as well as to the west and east coasts of Canada.
As the oldest of 5 children and often tour guide on my family's bison farm, leading a group and teaching came naturally to me. So, after completing high school the search for adventure lead me to the west again. Initially, my work experience and the north-western environment inspired ambitions of teaching something that involved the outdoors and health. As such, I worked up the ladder at an outdoor retail chain store and spent several years in management and corporate training. At the same time, I took further certifications in snowboarding and was privileged to travel extensively throughout British Columbia and Alberta training CASI certified snowboard instructors.
Over time though, I realized that I wanted to have a greater, more direct impact on people's health. However, the thought of giving up my job and starting university 7 years after graduating from high school was daunting to say the least! Fortunately, I had amazing encouragement from friends and family. So, my research revealed a degree program called Kinesiology which combined exercise and health physiology - exactly my interests. I began school in 2002 at the University of Northern British Columbia (in Prince George, BC) and later transferred to the Kinesiology program at the University of Calgary. When I started university, I had just become aware of naturopathic medicine and although I was interested, my initial goal was to become a sports medicine doctor as sports medicine had helped me recover from several athletic injuries. However, by the time I transferred to the U of C, I was convinced I would go into naturopathic medicine.
I met my wife Janice at the University of Calgary and she was excited to join me in my fulfilling my dream of becoming a naturopathic doctor. I am so thankful for her support through the naturopathic program in Toronto (at the Canadian College of Naturopathic Medicine) because the difficulty was unlike anyone could have prepared me for - possibly double the volume of work and stress as full time University! We now have two beautiful children and I am enjoying teaching them where food actually comes from, exposing them to a variety of fun forms of physical activity and continually developing their appreciation and respect for nature.
Although I have a special interest in athletic performance, I particularly enjoy practicing family medicine and see all ages of patients with both acute and chronic illnesses. I believe that your health is one of the most important aspects of your life and I am passionate about giving people the help they need to achieve their optimal health.
Welcome to the Mountain Health Team!
Richard